Cline Design Receives Awards for Two 2021 Multifamily Executive Awards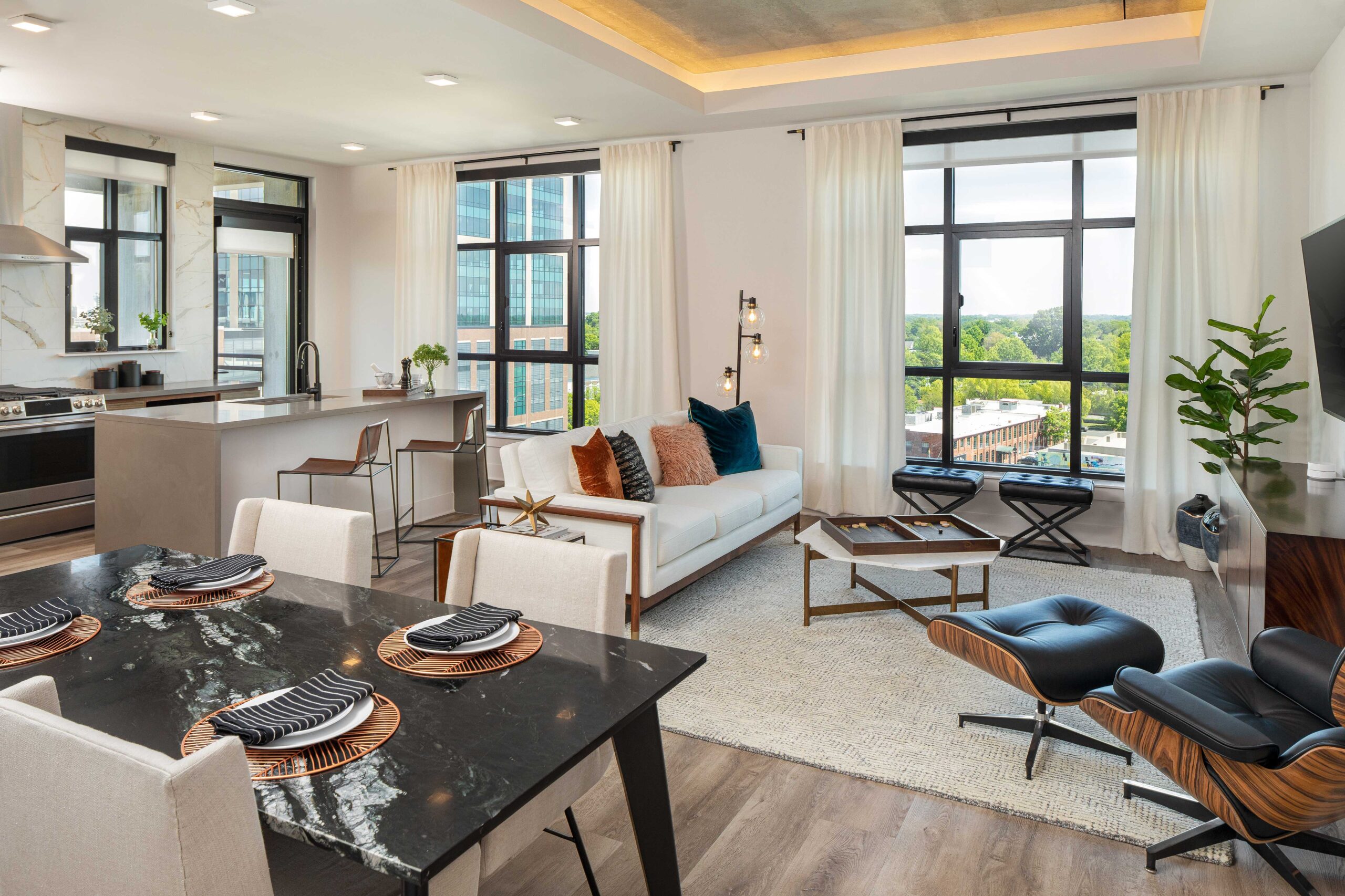 Each year Multifamily Executive recognizes project excellence throughout the United States by nominating 26 winners across 13 categories, providing a glimpse of the commercial housing industry at its pinnacle. Each category – ranging from senior-housing, affordable-housing, student-housing, adaptive re-use to mixed-use, high-rises, and mid-rises – recognizes both grand and merit winners and is selected by a juror of three judges with prominent roles in the AEC industry. With nearly 300 entries submitted for this year's awards program, the selected winners highlight the highest quality of building designs and programming in the 2021 market.
Merit Winner for Mixed-Use : Peace Raleigh Apartments – Raleigh, NC
Peace Raleigh Apartments serves as a catalyst for future developments at the Northern Gateway into Downtown Raleigh – including three mixed-use destinations already in the works – as it has rejuvenated the once underutilized historic neighborhood, Smoky Hollow. A quiet community that once housed mill workers a century ago was a sleepy little strip until 2016 when plans for Phase I of Smoky Hollow – including 417 apartments, a 45,000 square foot Publix, a two-story creative space for retail or office use, as well as an integrated parking deck – were announced. Completed in 2020, the development features stunning architecture and spacious interiors as well as luxurious community amenities setting the bar high for a new standard of urban living. The ground-floor Publix was a long-awaited arrival for the community, as it was and still is, the first and only national grocer to call downtown Raleigh home. In efforts of making the Peace Street corridor a more pedestrian and bike-friendly area, the design team worked with the City of Raleigh to enhance streetscape and sidewalk improvements and made sure Raleigh's Harrington Street Cycletrack was utilized by offering cargo bike parking for shoppers, hosting two city bus stops, and offering a direct connection to Raleigh's greenway trails at the future Devereaux Meadows Park directly across the street.
The inclusion of a full-size, nearly prototypical Publix presented an interesting design opportunity. As both the shell and fit-up architect, we were fortunate to have clients that recognized the need for synergy which is evident by how well the Publix is woven into the fabric of the overrall project."
The challenge of solving the program complexity is what got me out of bed in the morning for 2+ years. That, and the amazing relationship with our willing-to-push-the-envelope-client."
Simply put, this award is a recognition of the job the entire team did to take an inherently complex opportunity and provide a livable, enjoyable, and beautiful solution for our community."
Merit Winner for Best Unit Design : Hawk Apartments – Charlotte, NC
Hawk Apartments, located in the bourgeoning South End district of Charlotte, is a posh apartment community tailored to residents seeking a more upscale abode to call home. The 13-story high-rise offers an exclusive 71 units for residents to choose from, and each is tailored to its target market's needs and desires. Boasting only six units per floor, the development allows for a condominium-like feel, but with apartment amenity perks. Hawk was awarded Best Unit Design for its efficient use of square footage, layout, and design, as well as the added value the use of space and finishes bring to its residents. The lobby entrance showcases marble floors, brass mailboxes, designer lighting, walnut wood veneer, honed black slate, and original art. Hawk offers studios, two-, and three-bedroom options, with finishes like wide-plank flooring and "expansive warehouse-style windows; kitchens with French-door refrigerators, gas ranges, custom walnut cabinetry, brass and black hardware, and quartz countertops. Bathrooms feature glassed shower rooms with freestanding soaking tubs, separate toilet rooms, and rectified porcelain tile floors. Units also include custom-designed wardrobes, private laundry rooms, and wood-ceiling balconies with ceiling fans.
The team was posed with a unique challenge when designing this project: make precast attractive and livable. The result is a sleek solution that truly elevates what it means to subscribe to apartment living. It is an honor to be recognized for those efforts."