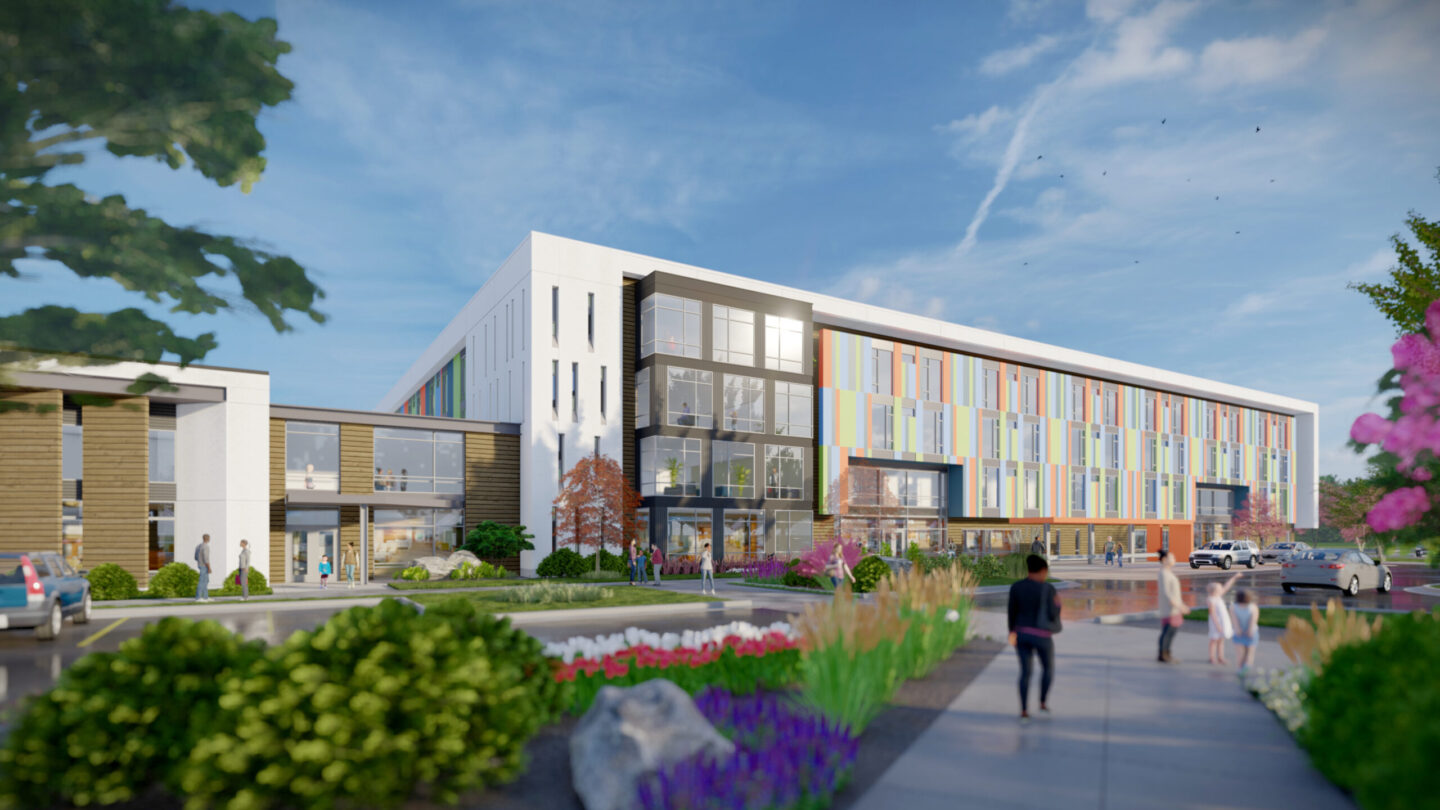 Services
Architecture, Landscape Architecture
Providing Hope in Knightdale.
Knightdale, NC
In the heart of Knightdale, a remarkable transformation unfolds on 13.58 acres of land. Here, Project Hope rises – not merely as a structure but as a beacon of hope and renewal. This development is a testament to the power of design in addressing social challenges, specifically homelessness among women and children.
Thoughtful design & purpose.
Project Hope is a tapestry of thoughtful design and social purpose. At its core is a 4-story residence for women and children, a symbol of safety and community. This building, with its 130-plus units, is more than a shelter; it's a home, complete with a kitchen, dining area, and spaces that encourage growth and healing. Adjacent to the residence, the heart of education beats in the children's learning center. This facility, catering to infants through 12th graders, is a hub of knowledge and discovery. Classrooms, tutoring rooms, and a sensory room create an environment where 414 students can thrive, supported by dedicated offices and a staff break room with a patio.
Engaging community through design.
Recreation and community engagement are pivotal in Project Hope's design. The gymnasium, spanning 13,200 square feet, is not just a building but a celebration of health and teamwork. It features a basketball court, concessions, and offices, all underlined by a covered porch that invites the community to gather and engage. The project extends its embrace to the outdoors with a 1.76-acre community park, a vibrant community square, and a 1.11-acre recreation lawn. These green spaces are complemented by a clubhouse, an amphitheater, and a public greenway, crafting a tapestry of nature and community interaction.
Community, collaboration, & celebration.
Project Hope goes beyond the basics, offering facilities that empower and inspire. The banquet hall and office space speak of a community that values collaboration and celebration. A library, TV room, conference room, interview rooms, classrooms, flex space, and a training room are designed not just for utility but for fostering opportunities and personal growth.