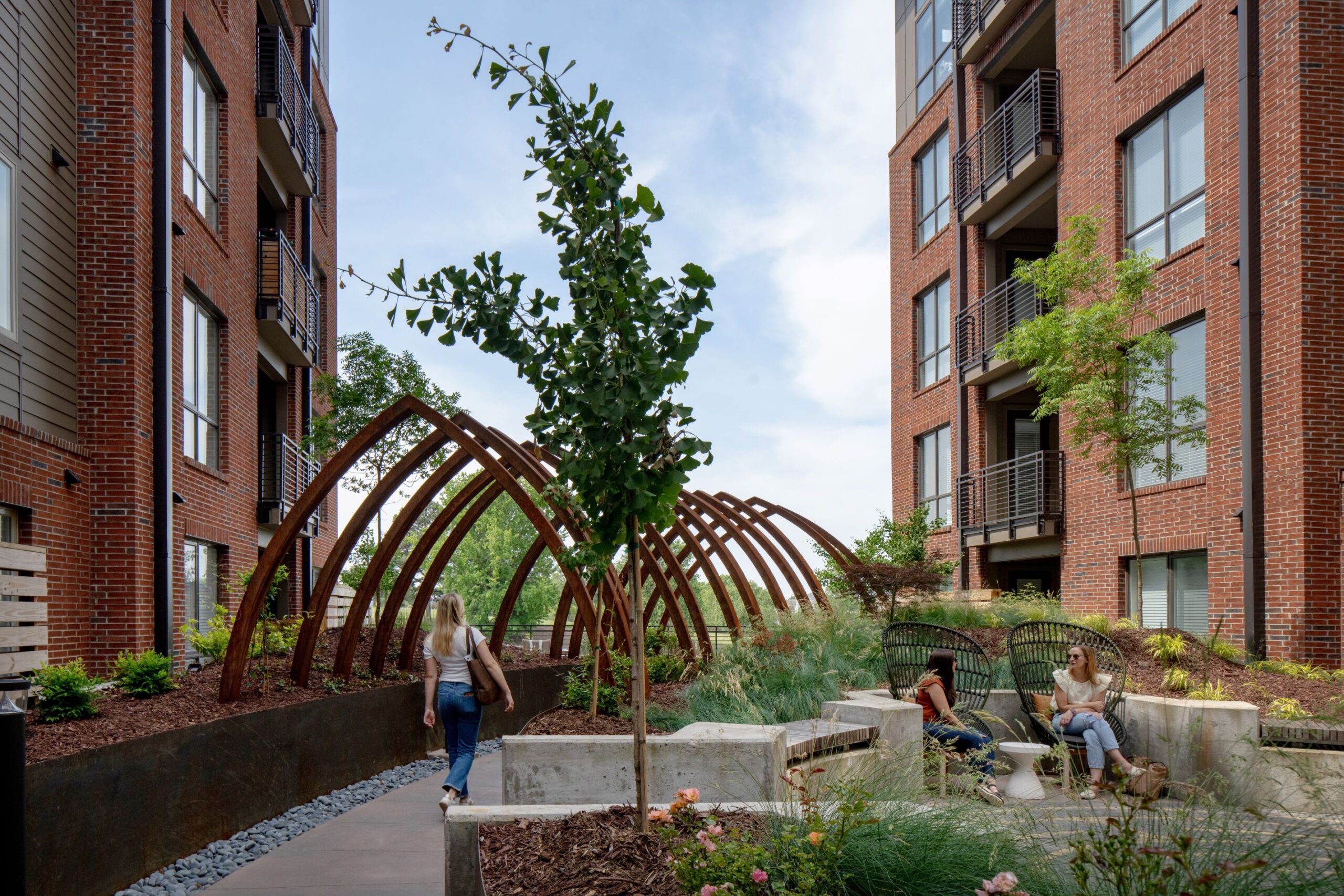 Services
Architecture, Interiors, Landscape Architecture, Planning
Soothing Connection to Nature.
Durham, NC
The Ramsey boasts a trio of courtyards, each with its own unique character. The zen garden offers a serene oasis providing a tranquil space for reflection and relaxation. The pool courtyard invites visitors to dive into luxury, featuring a resort-style pool perfect for recreation and outdoor socializing. And a smaller yet charming community courtyard fosters connections among residents and visitors, serving as a gathering spot for communal activities. All three are integrat facets of The Ramsey's outdoor amenities offering a connection to nature with a blend of modern aesthetics and organic elements.
Awards

The Triangle Business Journal
The zen garden exemplifies an ambiance of refinement, combining concrete and metallic planters meticulously crafted to instill a calming atmosphere. These planters blend sleek lines with intricate geometric curves, evoking equilibrium and serenity.
Indoor to Outdoor Meditation.
A designated space for outdoor meditation gracefully adjoins the yoga room. This area features an abundant open-air turf, an ideal locale for yoga sessions and contemplative reflection. Wooden slat partitions, also seen throughout the courtyard, adds an element of privacy.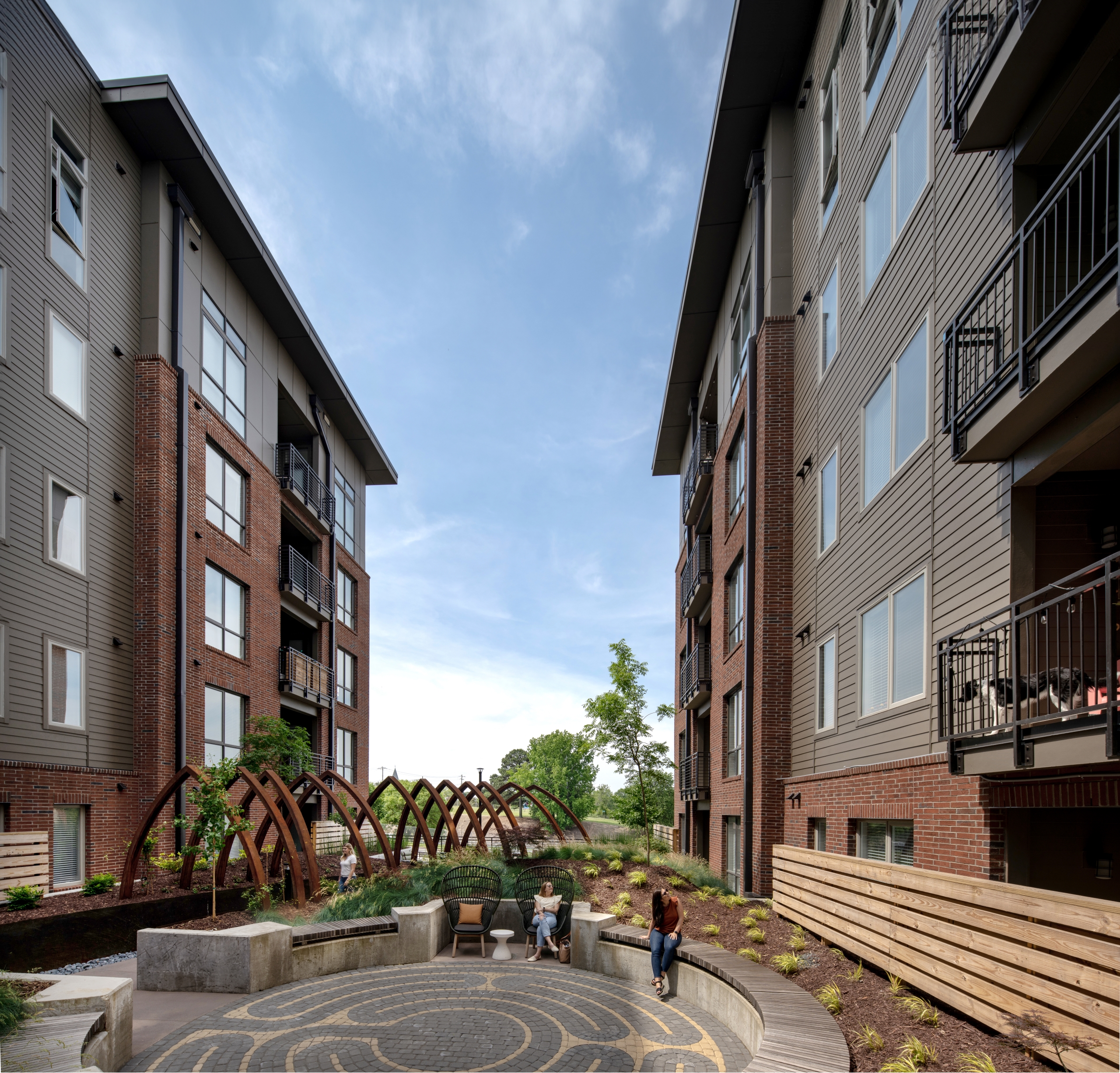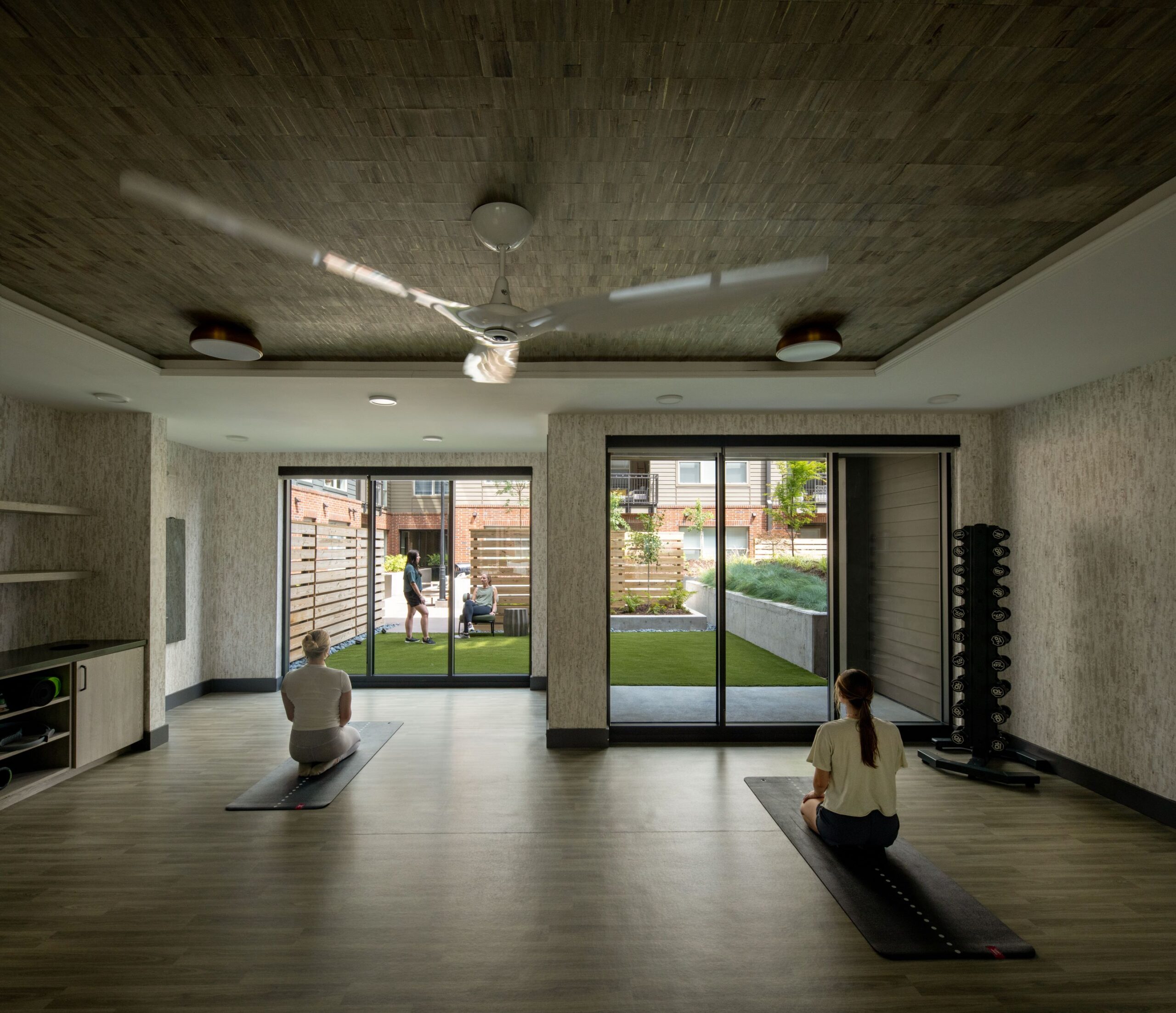 Labyrinth Pavers.
The inclusion of Mexican coastal pebbles enhances the garden's aesthetic, fostering a visual connection to nature and establishing a soothing ambiance. A labyrinth meticulously laid with pavers presents a meditative path. Encircling this labyrinth, wooden slat benches and intimate nooks for seating provide opportunities for introspection.
Striking Pathway Tunnel.
A striking concrete steel pathway tunnel is an architectural centerpiece, offering seamless connections between different areas. To preserve the relationship with the surrounding environment, transparent fencing allows residents to savor the beauty of the adjacent streetway while they are within the tranquil confines of the garden.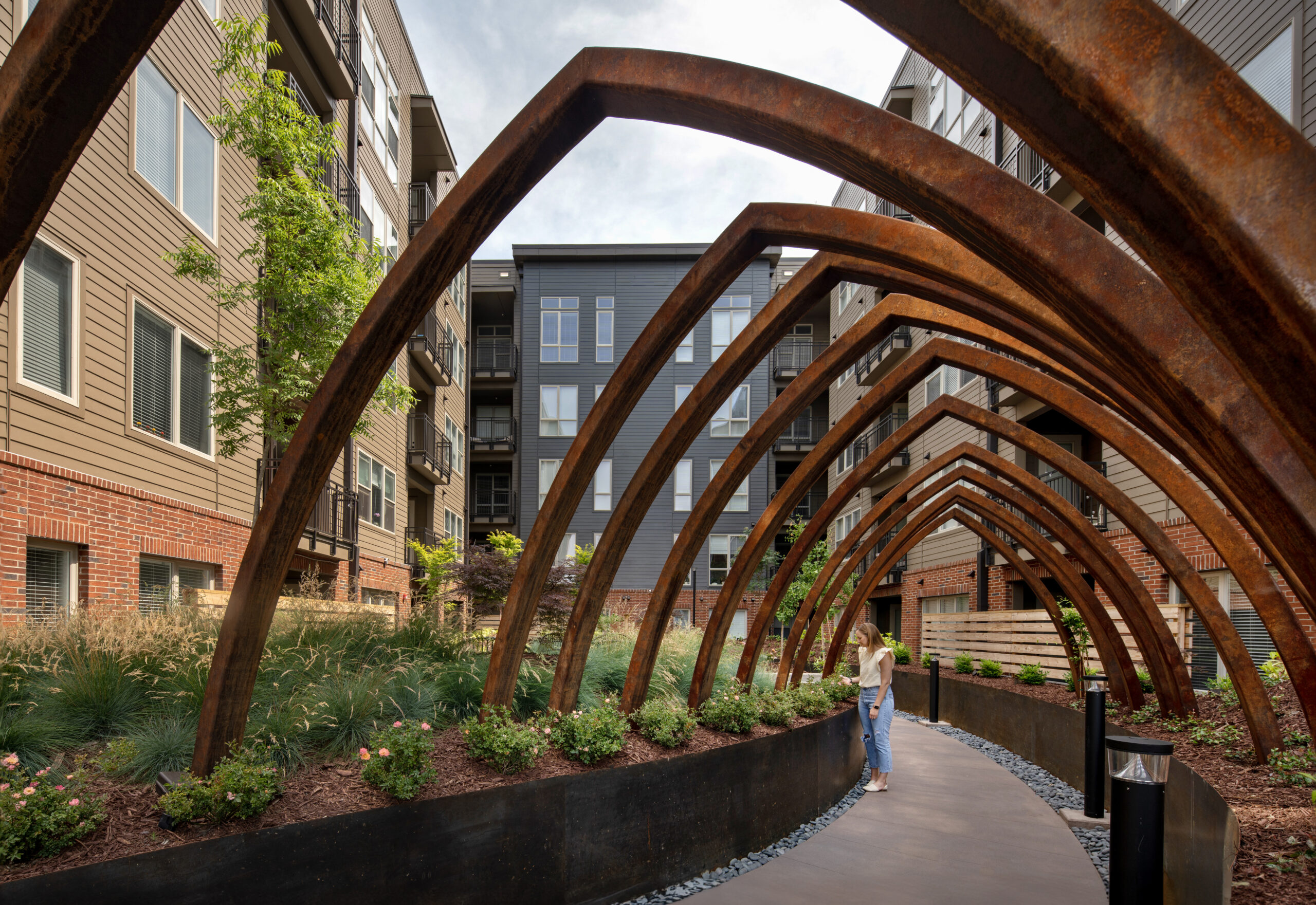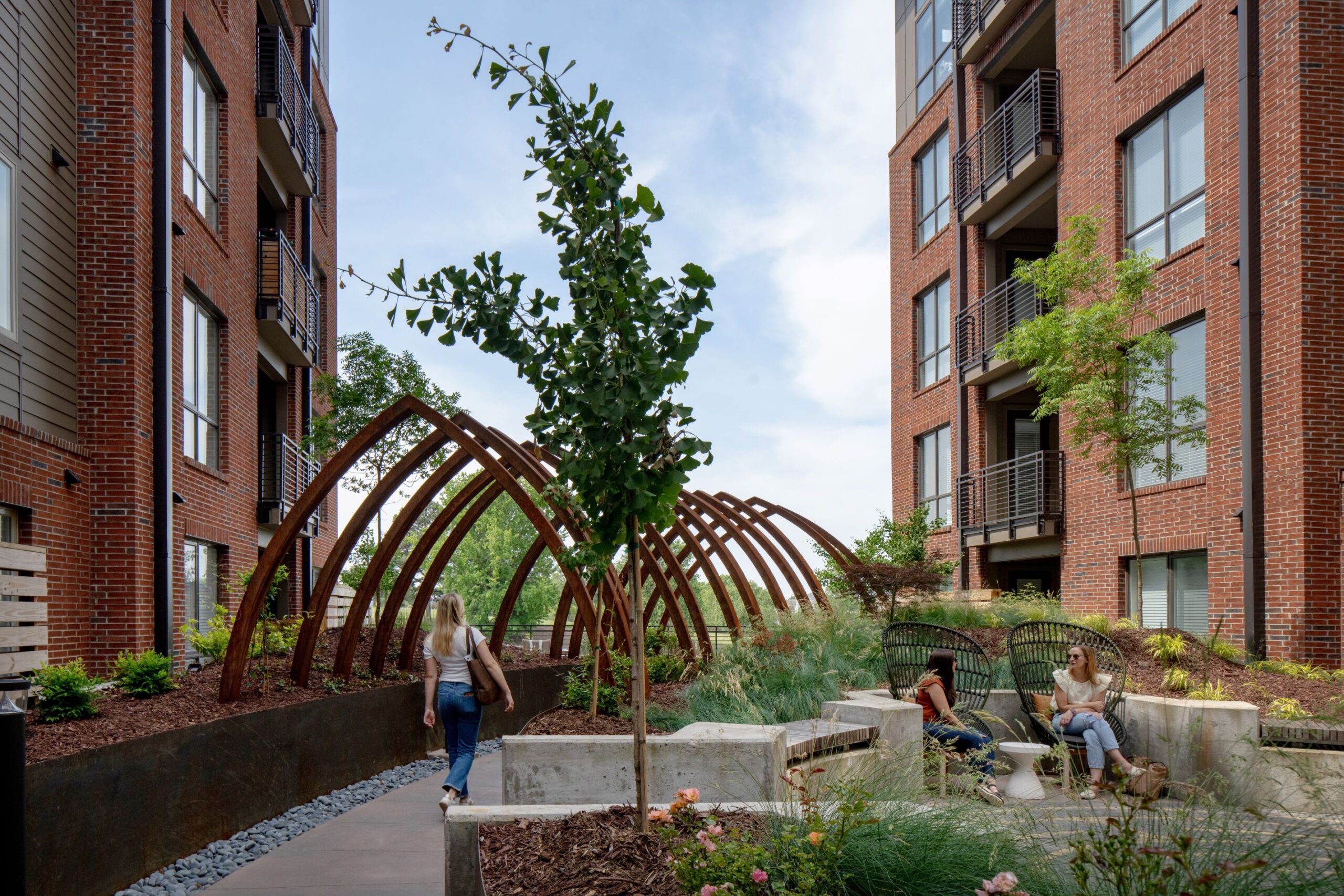 Firepit Focal Point.
The focal point of the pool courtyard is an enticing dual-sided firepit, creating an inviting space for residents to gather, unwind, and relish social interactions. An alfresco cooking and dining area is within the pool courtyard, surrounded by a lush landscape designated for grilling, preparing, and enjoying meals.