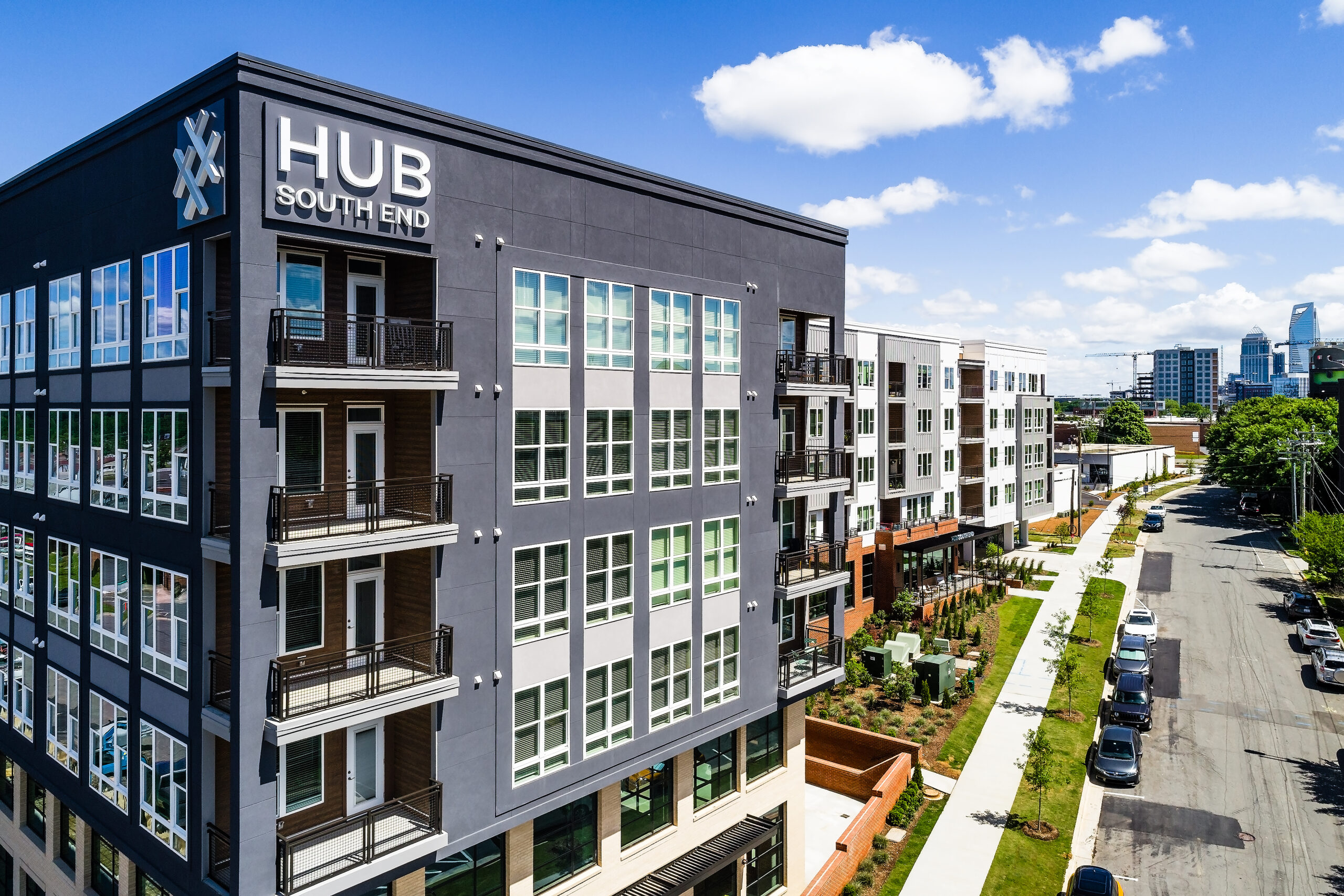 Project Size
265 units
20,000 sf retail
Art Gallery Aura Fuses Shared Spaces.
Charlotte, NC
The residential shared spaces at Hub South End were crafted to evoke the ambiance of an art gallery, providing a stimulating and inspiring environment for individuals utilizing the co-working spaces, sitting areas, TV lounge, and the central coffee area known as The Hub.
Charlotte's artistic hub.
To infuse the essence of Charlotte into the project, the design team collaborated with Art House Charlotte to curate a collection of 29 original artworks by 17 local artists from the greater Charlotte area. The objective of the design concept was to integrate public art, including exterior murals, along with a lobby and amenity areas that exude a gallery-like atmosphere. This approach aligns with Hub's artist-in-residence program, offering a rent-free living arrangement to a chosen local artist in exchange for showcasing their work in the community spaces of the development.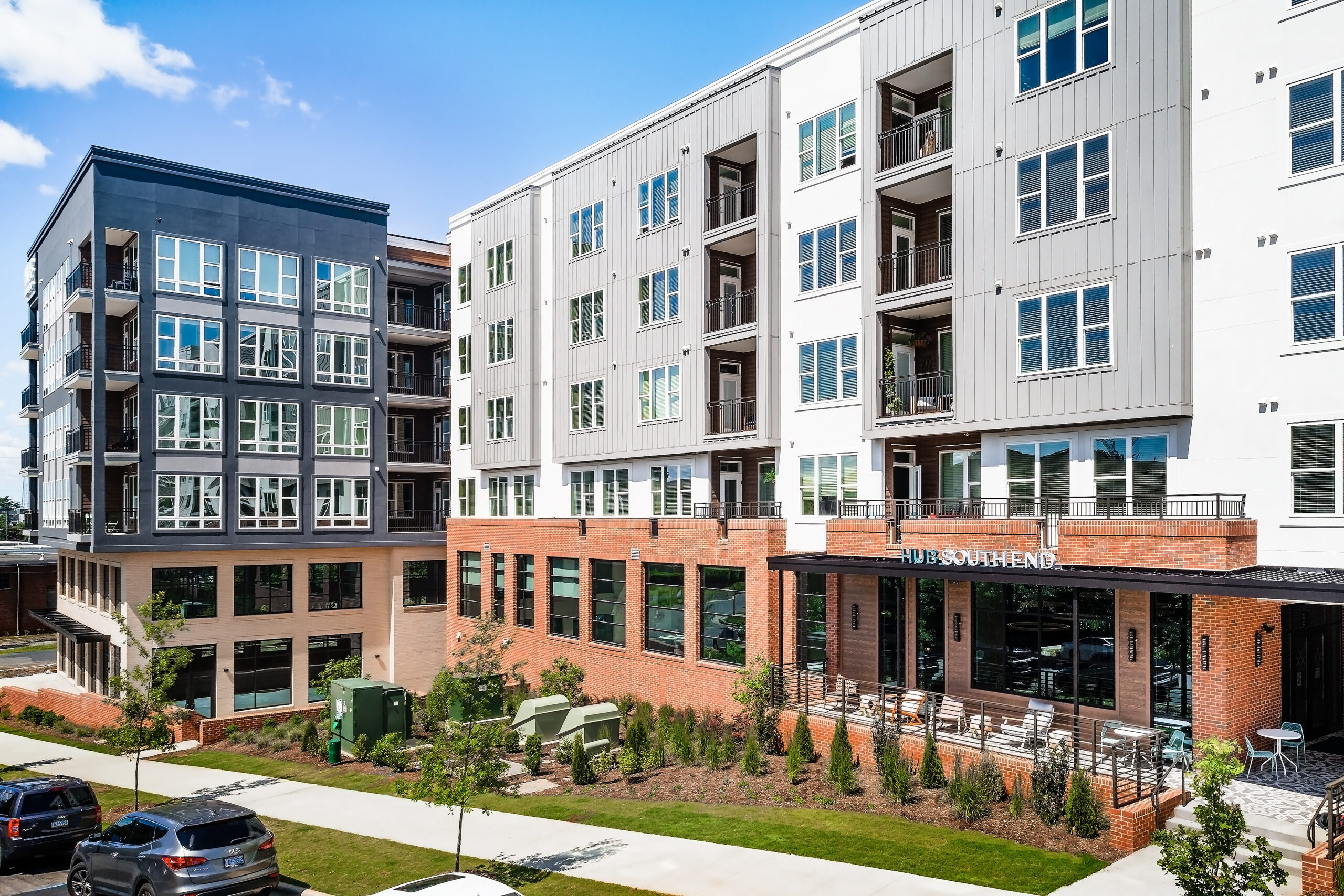 A harmonious blend of nature & design.
Hub's spaces transcends the ordinary, creating a warm and welcoming environment that stands as an oasis in the urban landscape. Cline's design philosophy centers on bringing the outdoors in, harmonizing the space with earthy tones, lush plant-life, and unexpected pops of creativity. The starkness of cold concrete is masterfully subdued by the incorporation of rich wood elements, adding a touch of organic warmth. Every corner of space is bathed in pervasive natural light, inviting guests to bask in its glow and embrace the tranquility.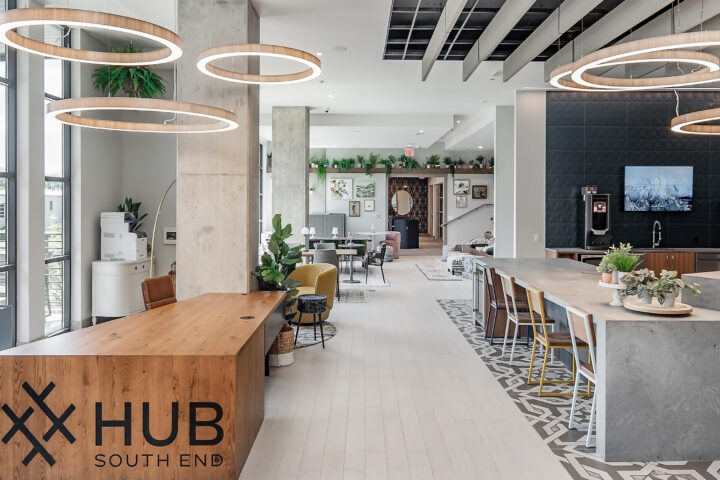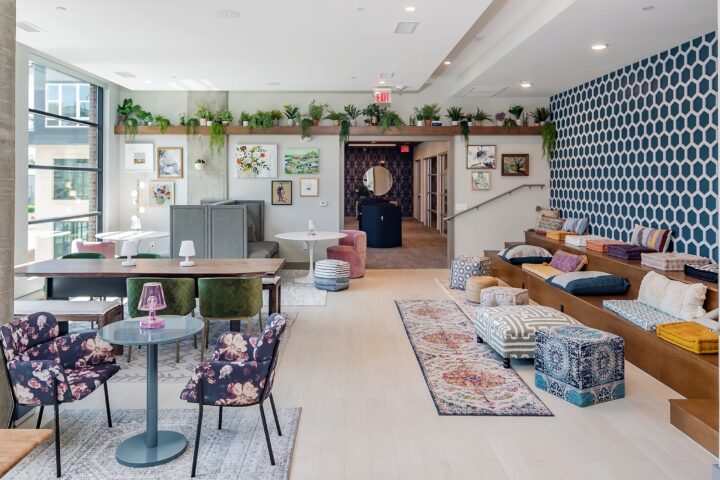 Art infused amenities.
First-class amenities seamlessly blend with the eclectic Hub community spirit. The central lounge is the heart of the Hub, thoughtfully designed with spaces that foster community and individuality. Guests can sip their favorite brew at the coffee bar, relax in the cozy sitting area, or engage in culinary creativity in the community kitchen. For those seeking a quiet retreat, Hub's private spaces offer the perfect setting for focused work. Residents can embrace wellness in the serene yoga studio or energize their day in the state-of-the-art fitness center. Each space at the Hub is infused with subtle moments of creativity, echoing the mission to create an environment reminiscent of an art gallery.