Crafting Peace Raleigh Apartments: An Architect's Journey Through Urban Development Symphony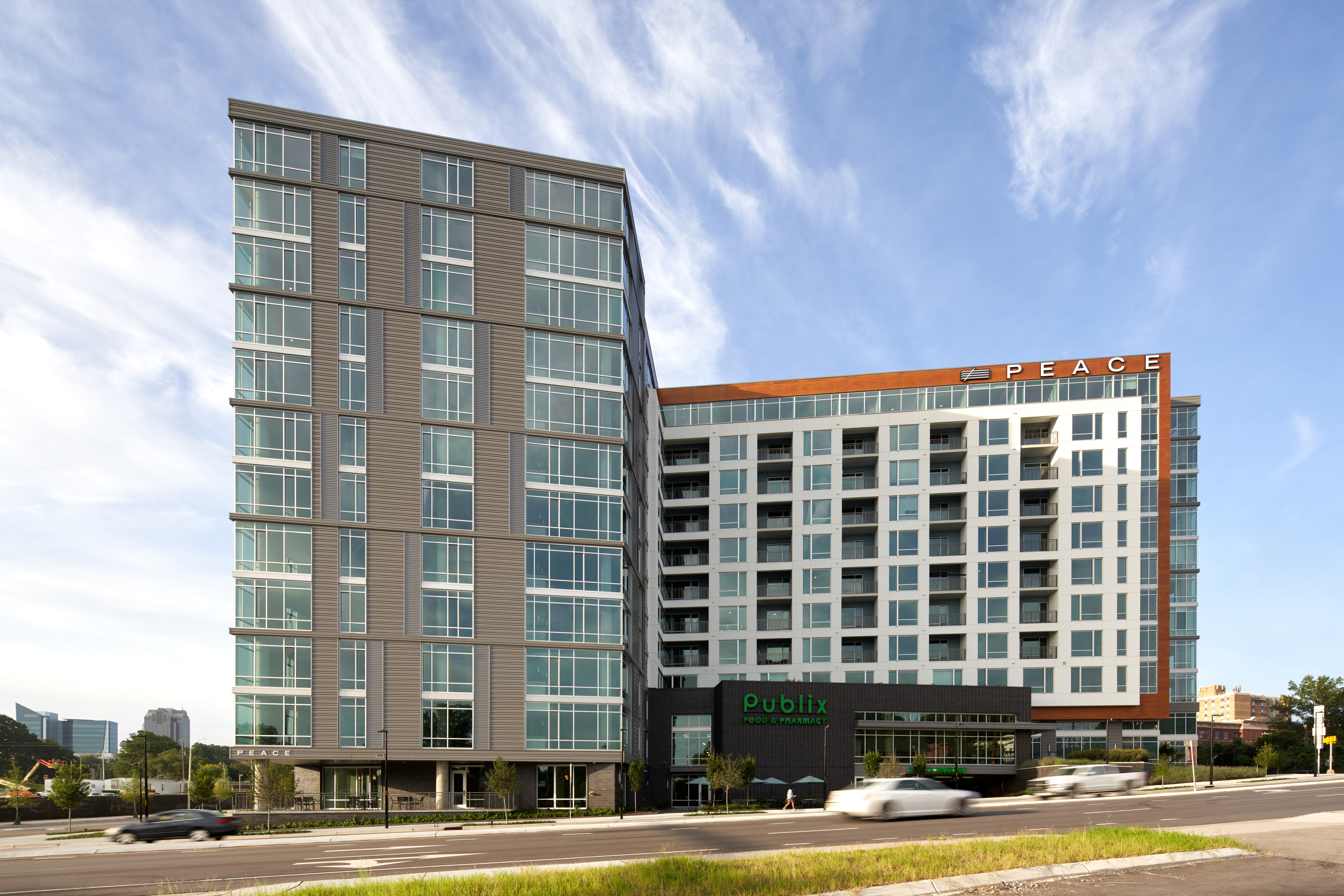 If you travel anywhere near the North side of Downtown Raleigh, chances are you've seen the Peace Raleigh Apartments mixed-use development. Standing twelve stories at its highest corner, the project boasts 417 apartment units with over 30 different unit plans across nine levels. There are 18,000-square-feet of amenities including an elevated pool and courtyard area with breathtaking views of downtown Raleigh, two parking structures, 55,000-square-feet of retail and the first grocery store in Downtown Raleigh.
Bryan Johnson, AIA
Associate Principal at Cline Design and Project Manager for Peace dives deeper into what it's like managing an over 900,000-gross-square-foot urban development that will serve as the new Northern Gateway for Downtown Raleigh.
You've worked on Peace Raleigh Apartments for 4 years now. What are some of the challenges you've faced and how have they overcome them?
There were a lot of moving parts on this project at the outset. Initially, solving the program was most critical and proved most challenging. We studied various mixes of tenant requirements, retail space, parking spaces and residential units. Determining the optimal mix and how they would stack took an incredible effort, intense focus and solid teamwork to get to a solution that met our clients' vision. It was essential to collectively work towards balancing positive productivity, managing costs and designing for unknown future conditions.
We were fortunate to have a great team and client who made clear the long-term goals of the project. It was paramount in keeping us focused on the end goal of the design. Having the discipline to step back and re-analyze different situations where you might have gotten too far off track was key to keeping the project moving in the right direction.
What have been some of your most rewarding moments on this project?
It's probably cliché to say, but the most rewarding moment is watching this project that I've spent 3-4 years helping create, finally be brought to life from plans on paper. It really is one of the best, most rewarding parts of working on this project. Walking the job site and experiencing a building firsthand, a building that thousands of people will shop at, work at and call home, is an incredible feeling and knowing I had a role in creating it gives me an indescribable sense of pride.
There are many consultants and partner firms on this project. How do you manage the team while managing client expectations?
Understanding the client's expectations is critical to the success of any project and this one was no exception. Communicating that vision at all levels and having fun while doing it leads to a successful project.
You have to make the process fun, understand what excites your client and your team at an individual level. Meet them in that space where they best communicate based on their strengths. Everyone has an opinion (especially us Architects!) and everyone works within their own methodologies. My job is to bring all those personalities and approaches together and to find the best solution for our client.
As far as consultants on our Peace team, I learned how to communicate with them and develop a relationship where I hope they enjoyed working with me as much as I did with them. Being invested, listening and learning more about what our team members do helped with our responsiveness and our ability to be flexible as a team.
What are the critical tools and resources you've relied on throughout the project?
People, relationships and our firms' operations. Our staff has been one of my largest assets to this project. Their design insight, flexibility, collaborative nature and expertise have been critical to delivering the project. They have an extensive network of partners that have helped provide specialized expertise and insight on the unique design opportunities Peace has presented. The combination of these critical components with Cline Design's processes and procedures has allowed us to be a better partner and resource to the team and our client.
What have you learned from working on a project of this size and scale?
Music has always been a big part of my life.  I had eight years of piano lessons as a kid, I played guitar in a high-school rock band with buddies and played piano for chapel during college. Deep down music has had a significant impact on my life. So I'll utilize a musical reference here by H.E. Luccock, "No one [person] can whistle a symphony. It takes a whole orchestra to play it."
A project this scale takes an enormous team of people to successfully deliver. This is not a one-person show. The sooner you realize you play an integral role in the larger orchestra, the better off you will be and the better your team (or symphony) will sound. I'm proud to be part of a team that has created something special for downtown Raleigh.
What advice do you have for the next generation of AEC professionals when it comes to working on projects similar to Peace?
I can't stress how important it is to develop relationships. Co-workers. Contractors. Engineers. Clients! The project just runs smoother and we're more successful when the project team members know and respect each other.
Develop client relationships. The development of these relationships leads to repeat clients. A large portion of our work at Cline Design comes from repeat clients. I'd like to think they come back not only because we have proven to be experts at what we do, but because they enjoy working with us. We know how to work hard, but we also know how to have fun while doing so.
And my last piece of advice when it comes to any project, be vulnerable – it's ok to ask questions. That's how you learn and become an asset to the firm and the project teams. Ask for opportunities and be willing to work hard to deliver on that request. Don't assume the (your) first solution is the right one. It rarely is! Listen to feedback and be creative in how you respond. You don't have to do it all. Don't be afraid to play the flute in the orchestra.