Character Counts: How A Mixed-Use Project's Design Honors The Past While Meeting 21st-Century Expectations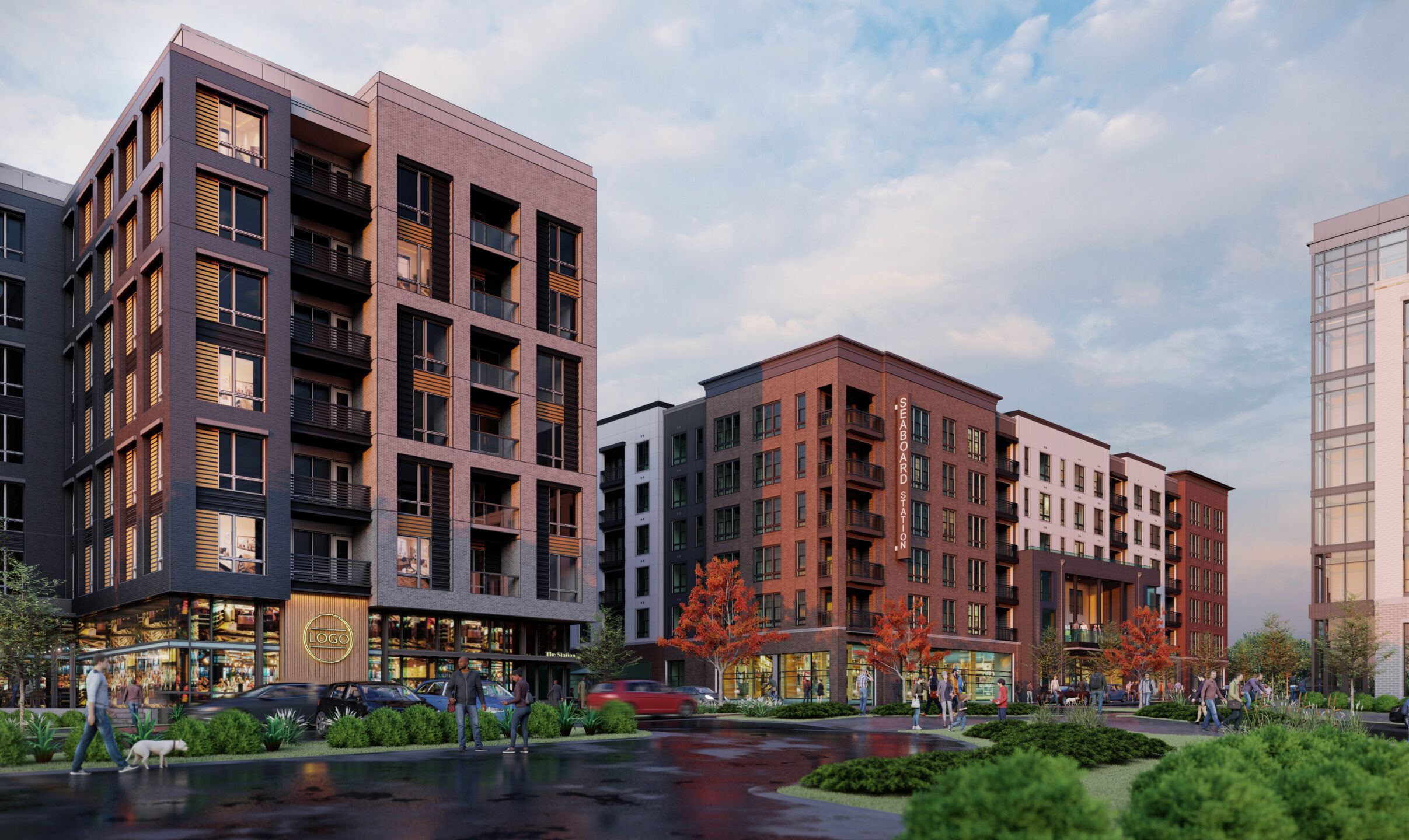 A nearly 9-acre site east of Capital Boulevard in Raleigh, North Carolina, has had many different uses over the decades, including as a switching yard for a regional railroad. But more recently, the area near the city's booming downtown had been underutilized.
Known to Raleigh natives as Seaboard Station, the five contiguous parcels on the property, three of which are being redeveloped, are being expanded and enhanced with the site's history in mind to create an inviting community for residents and visitors alike. 
But this is more than just any modern community. The mixed-use development by Hoffman & Associates is designed to honor the area's history and neighbors, including William Peace University, while meeting the needs of 21st-century residents, workers and visitors.
"Hoffman & Associates' goal with the entire Seaboard neighborhood is to create a space where people can live, work and connect," said Brett Powell, a partner, practice leader and architect with Cline Design Associates. "This provides a means of redeveloping a section of the city that hadn't seen much new development in recent years."
The project was right up Cline Design's alley, not only because the firm is located in Raleigh but also because Cline takes a holistic approach to development that integrates the disciplines of architecture, interior design and site planning.
"They selected us because of our broad knowledge of materials, costs and the market here, and our experience and expertise in doing everything from the building design to the interior design and landscape architecture," Powell said.
The $300M-plus Seaboard Station development will include 630K SF of residential units, 105K SF of hotel space, 95K SF of retail space and 986 parking spaces when completed in 2024. Powell said Cline thoughtfully knit together the three main buildings on-site with purposeful interior and exterior details while also avoiding uniformity.
Cline Senior Interior Designer Haley Kennedy said a big part of the process involved understanding the context of Seaboard Station and its uses since the 19th century. Cline was inspired by the site history that Hoffman & Associates had commissioned.
Kennedy said her team focused on the site's railroad, residential, industrial and educational histories. For instance, Cline incorporated historical images and the logo of the site's biggest former user, the now-defunct Seaboard Air Line Railroad, into what Kennedy called "whimsical artwork throughout the space."
The interior design also pays homage to the aesthetics of nearby historic homes and William Peace University. Kennedy said this is evident in Seaboard Station's use of marble tile, traditional crown molding, spindle woodwork details and plaster accessories.
The design drew somewhat on the site's former industrial usage. However, Cline was careful not to overemphasize this aspect of the property's history because it wanted to distinguish the design.
"I think that it is almost expected in most new developments to have an industrial vibe to the space, so we wanted to focus on the unique history of the railway and the surrounding community," Kennedy said.
Cline took inspiration from Seaboard Station's university neighbor. Kennedy said this took the form of shared spaces and amenities, including a room with a library motif that features a wine lounge, floor-to-ceiling built-in bookshelves, and a rolling ladder and wine lockers. Elsewhere, a two-story lounge is centered around a long, shared study table with library lights.
A similar level of thought was paid to the exteriors of the new Seaboard Station, where Cline strived to create a signature appearance while avoiding a monolithic look.
"We got together with our other Cline teams every week to make cohesive buildings that look like they are telling one story," said Martin Chavanne, Cline lead design principal.
Cline created visual interest by breaking up the exterior design into individual components. This was especially important for the building known as The Signal, which, at more than 300 feet long, needed to not look like a single giant mass. Instead, exterior design and materials variations create a more welcoming and exciting facade, Chavanne said.
"We tried hard to find a balance and apply a traditional look to the exterior, but with subtle, more contemporary detailing," he said.
Powell said Seaboard Station is a "great example" of the benefits of working with a multidisciplinary architecture and design firm. He said the result is a cohesive development that avoids being repetitive or dull.
"I think our ability to approach each project as its own unique site but to be able to tie the buildings together is something that we bring to the table," he said. "I think when the three buildings that are under construction are done, other than the sharing of some of the materials, I don't know that you'll look at them and think, 'These buildings are clearly by the same architect,' because they all have their own character to them."
This article was produced in collaboration between Cline Design Associates and Studio B. Bisnow news staff was not involved in the production of this content. Studio B is Bisnow's in-house content and design studio.